Simon and Marc, Founders of ApexGolf explain the ApexGolf concept
Join our amazing community!
Register in just a few steps!
We are confident that our platform will meet your expectations. If, following your membership, you are not satisfied, we can reimburse you, no questions asked. Note, however, that if you have taken advantage of your benefits and played at least one round at Apex's preferential rates, you are not eligible for this refund.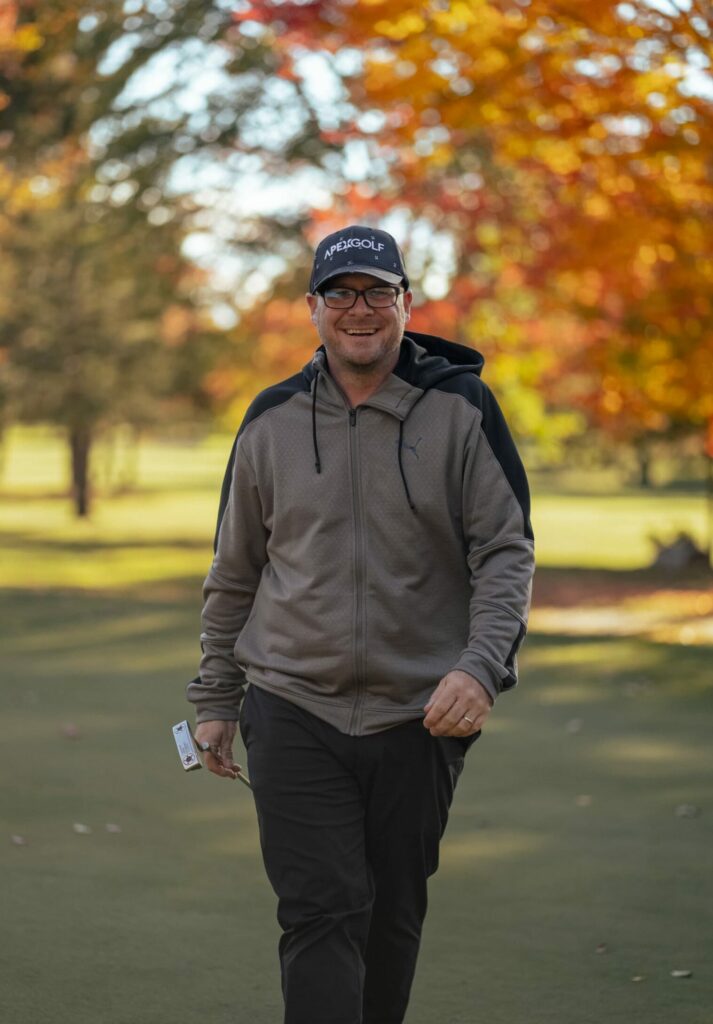 Find out why they choose
ApexGolf
« ApexGolf let's you save on your rounds on quality courses . »
« ApexGolf membership, let's you travel and discover other courses. »
« ApexGolf let's me find other golfers and enjoy our passion. »
Avec ApexGolf,
économisez

... et jouez!
ApexGolf
course member
ApexGolf prices
Amount saved
per game

Club de Golf de Coaticook (with kart)

37

$

17

$

Club de Golf Canton (walking)

20

$

14

$

Club de Golf Le Verchère (Le Madeleine)

27.5

$

17.5

$

Victoriaville Golf Club

38.5

$

20.5

$

Club de Golf Canton (with kart)

35

$

17

$

Royal Bromont

45

$

23

$

Club de Golf La Seigneurie

40

$

16

$

Club de Golf St-Jean

31

$

15

$

Val des Sources Golf Club (with kart)

20

$

14

$

Club de Golf de Montcalm- La Seigneurie

35

$

16.50

$

Golf de l'Île de Montréal (Ireland Course)

42

$

19

$

Laurier Golf Club

30

$

15

$

Club de Golf Le Drummond

22

$

14

$

Club de Golf Verchères (Le Verchères)

27.5

$

17.5

$

Club de Golf de Montcalm- Parcours Le Canton

35

$

16.50

$

Center of Golf of Lanaudière

29.5

$

16.5

$

St-Jerome Golf Club

32

$

16

$

Club de Golf de Portage

36

$

16

$

Club de Golf Milby

26

$

20

$

Coaticook Golf Club (walking)

22

$

14

$

Golf de l'Île de Montreal (Island Course)

40

$

15

$

Lachute Golf Club- Thompson Course (#1)

37.5

$

22.5

$

Club De Golf Beloeil

42.50

$

22.50

$

Cowansville Golf Club

25

$

21

$

Links O'Loups Golf Course (Louiseville)

25

$

16

$

Vallée des Fort Golf Club

28.5

$

18.5

$

Glendale- Ancestral Course

30

$

17

$

Farnham Golf Club

28

$

20

$

Hemmingford Golf Club- Frontière Course

27.50

$

22.50

$

Club de golf LongChamp

30

$

15

$

Club de Golf Val-Des-Sources (with kart)

35

$

16

$

Club de Golf Heriot

21.75

$

13.25

$

Club de Golf de Joliette

60

$

25

$

Club de Golf Continental

30

$

17

$

Grand-Mère Golf Club

27.5

$

17.5

$

Lachute Golf Club- Watson Course (#2)

37.5

$

22.5

$

Golf Château Bromont

40

$

21

$

Club de Golf de St-Jean-de-Matha

50

$

24

$

Club de Golf Val-Morin

45

$

15

$

Golf Le Griffon des Sources

65

$

20

$

Napierville Golf Club

26

$

14

$

Golf Hemmingford- Parcous Le Village (privé)

50

$

25

$

Glendale- Elite course

42

$

19

$
ApexGolf
course member
ApexGolf prices
Amount saved
per game

Napierville Golf Club

30

$

17

$

Club de Golf La Seigneurie

46

$

21

$

Club de Golf Continental

30

$

17

$

Cowansville Golf Club

30

$

26

$

Golf de l'Île de Montréal (Ireland Course)

56

$

20

$

Club de Golf de Joliette

60

$

25

$

Club de golf LongChamp

30

$

20

$

Club de Golf Val-Des-Sources (with kart)

35

$

16

$

Glendale- Elite course

20

$

19

$

Lachute Golf Club- Thompson Course (#1)

37.5

$

22.5

$

Club de Golf Verchères (Le Verchères)

30

$

18

$

Golf Château Bromont

50

$

21

$

Club de Golf Canton (walking)

20

$

14

$

Vallée des Fort Golf Club

31.5

$

17.5

$

Club de Golf de Montcalm- Parcours Le Canton

40

$

17.50

$

Club de Golf de Portage

42

$

20

$

Club de Golf Canton (with kart)

35

$

17

$

Golf Le Griffon des Sources

70

$

25

$

Royal Bromont

45

$

23

$

Club de Golf St-Jean

32

$

20

$

Farnham Golf Club

32.5

$

22.5

$

Club de Golf de St-Jean-de-Matha

55

$

24

$

Glendale- Ancestral Course

39

$

18

$

Club de Golf Le Drummond

26

$

15

$

Golf Hemmingford- Parcous Le Village (privé)

50

$

25

$

Val des Sources Golf Club (with kart)

20

$

14

$

Club De Golf Beloeil

42.50

$

22.50

$

St-Jerome Golf Club

40

$

18

$

Links O'Loups Golf Course (Louiseville)

27

$

19

$

Lachute Golf Club- Watson Course (#2)

37.5

$

22.5

$

Victoriaville Golf Club

38.5

$

20.5

$

Hemmingford Golf Club- Frontière Course

30

$

20

$

Club de Golf Heriot

26

$

15

$

Golf de l'Île de Montreal (Island Course)

50

$

20

$

Grand-Mère Golf Club

31

$

20

$

Club de Golf de Montcalm- La Seigneurie

40

$

17.50

$

Coaticook Golf Club (walking)

27

$

18

$

Club de Golf Le Verchère (Le Madeleine)

30

$

18

$

Club de Golf Milby

35

$

17

$

Club de Golf Val-Morin

50

$

20

$

Club de Golf de Coaticook (with kart)

42

$

21

$

Laurier Golf Club

30

$

15

$

Center of Golf of Lanaudière

33

$

19

$