"ApexGolf's mission is to provide an innovative service for the entire golf community by promoting easy accessibility! "
– Simon Lacroix, Founder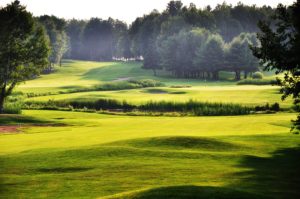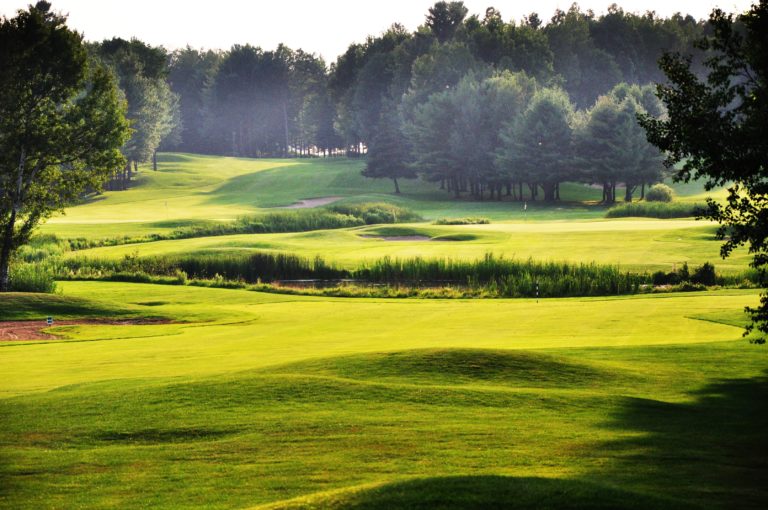 Le sixième trou est un des plus difficiles mais également majestueux avec une vue imprenable sur la vallée. Vous avez de quoi vous satisfaire un coup de départs précis pour vous rapprocher de la zone à pénalité, en évitant fosse de sable, obstacles d'eau à gauche et à droite. Puis votre deuxième coup au vert, un coup de 150 verges avec encore des fosses de sable qui protège un vert surélevé. Finalement un vert immense, ondulé qui vous demandera une touche délicate. Attention de pas vous laisser distraire par la faune autour, tortues, chevreuils, canards sont autour de vous.
Long de 6771 verges et comptant quatre niveaux de difficulté, le St-Laurent devrait plaire à toutes les catégories de golfeurs. Richard Faucher a conçu un parcours visuellement élégant, qui offre de tout: des monticules délimitant les allées étroites, des fosses de sable stratégiquement localisées, vert double, des départs surélevés. Enfin le parcours utilise comme toile de fond une nature sauvage, une forêt mature et un ruisseau des prairies où vous apercevrez peut-être un grand héron qui nous visite régulièrement. Tous les trous de ce parcours ont été dessinés de façon à permettre aux joueurs, s'ils le désirent, de prendre un risque proportionnel à la situation de jeu. Les allées étroites et sinueuses obligent les golfeurs et golfeuses à sacrifier très souvent la distance à la précision. Le vert du 18 et celui du 9 se distinguent car il s'agit d'un vert double de style écossais. L'arrivée à la fin de votre ronde peut donner lieu à des roulés très intéressants. Les deux parcours du Continental peuvent recevoir au delà de 188 golfeurs en départs simultanés. Les trois salles de réception et les terrasses extérieures permettront à vos invités de passer une excellente journée.
With ApexGolf.... Save and play!
Regular price
week
Apex price
week
Amount
saved

Club de Golf Le Verchère (Le Madeleine)

41

26

15

Club de Golf Verchères (Le Verchères)

41

26

15

Val des Sources Golf Club

58

45

13

Glendale- Ancestral Course

44

30

14

Glendale- Elite course

57

40

17

Club de golf LongChamp

43

30

13

Lachute Golf Club- Watson Course (#2)

55

35

20

Lachute Golf Club- Thompson Course (#1)

55

35

20

Club de Golf Val-Morin

60

45

15

Farnham Golf Club

44

27

17

Club de Golf de Portage

50

32

18

Berthier Golf Club

43

26

17

Club de Golf Continental

43

27

16

Club de Golf de St-Jean-de-Matha

74

50

24

Victoriaville Golf Club

55

38

17

Laurier Golf Club

42

28

14

Godefroy Golf Club

42

25

17

Grand-Mère Golf Club

39

25

14

Links O'Loups Golf Course (Louiseville)

35

22

13

Center of Golf of Lanaudière

42

26

16

Coaticook Golf Club

36

25

11

Vallée des Fort Golf Club

47

25

22

Golf Château Bromont

61

40

21

Club de Golf St-Jean

46

31

15

Club de Golf Milby

43

26

17

Hemmingford Golf Club- Frontière Course

38

20

18

Cowansville Golf Club

46

25

21
Regular price
weekend
Apex price
weekend
Amount
saved

Club de Golf Le Verchère (Le Madeleine)

43

28

15

Club de Golf Verchères (Le Verchères)

43

28

15

Val des Sources Golf Club

58

45

13

Glendale- Ancestral Course

56

38

18

Glendale- Elite course

66

45

21

Club de golf LongChamp

46

30

16

Lachute Golf Club- Watson Course (#2)

55

35

20

Lachute Golf Club- Thompson Course (#1)

55

35

20

Club de Golf Val-Morin

70

50

20

Farnham Golf Club

49

27

22

Club de Golf de Portage

60

40

20

Berthier Golf Club

48

31

17

Club de Golf Continental

43

27

16

Club de Golf de St-Jean-de-Matha

74

50

24

Victoriaville Golf Club

55

38

17

Laurier Golf Club

42

28

14

Godefroy Golf Club

42

27

15

Grand-Mère Golf Club

45

30

15

Links O'Loups Golf Course (Louiseville)

40

24

16

Center of Golf of Lanaudière

48

32

16

Coaticook Golf Club

45

27

18

Vallée des Fort Golf Club

48

27

21

Golf Château Bromont

71

50

21

Club de Golf St-Jean

52

32

20

Club de Golf Milby

48

30

18

Hemmingford Golf Club- Frontière Course

46

27

19

Cowansville Golf Club

56

30

26