Partnered Golf Courses
ApexGolf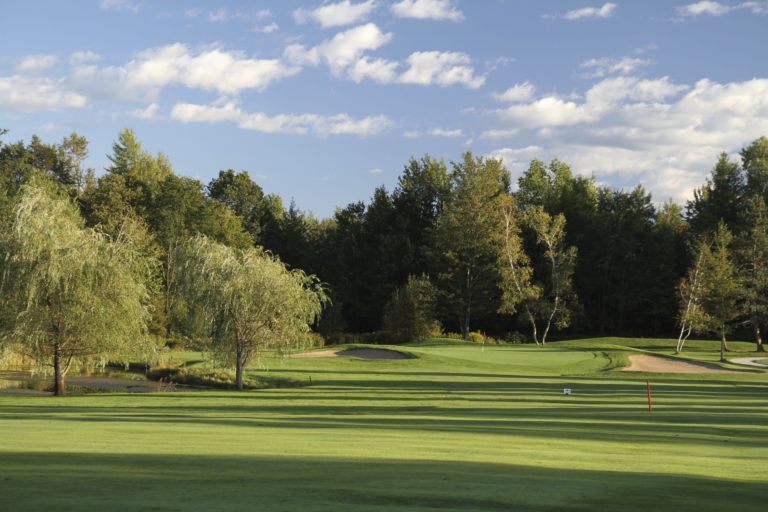 The 11th hole at the Cowansville Golf Club, where the famous iconic tree of the course is found. A long par 5 with a stream a hundred yards in front of the green makes the lay-up a bit more difficult. Long hitters can take the green in 2, with a long green and a sand trap that protects the green well.
Cowansville is an exceptional championship course surrounded by nature less than an hour from Montreal. For 54 years on the same site, the land has reached extraordinary maturity. Golfers sensitive to flora and fauna will be delighted. Its five starting milestones make it a challenge for all levels of play.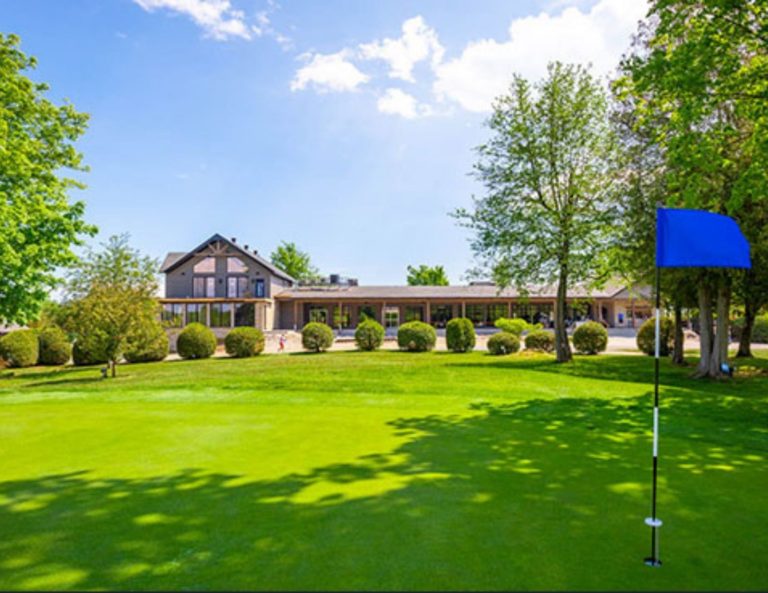 Hemmingford Golf Club- Frontière Course
The 17th hole is a short but fun par 4! High risk, high reward, if your are a righty with a fade or a lefty would a little draw, the green will be inviting to try and reach! Beware, if you miss left or right, trouble awaits.
A classic course with high quality greens and a challenging design for casual and experienced golfers.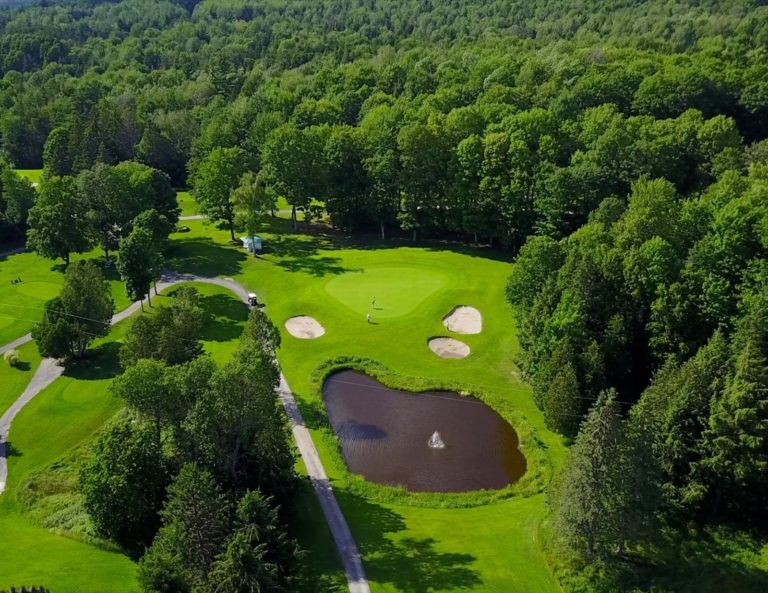 Intimidating par 3, the 16th hole of the Milby course presents a huge challenge for golfers. Many golfers decide to take an extra club for their tee shots in order to avoid the water hazard and the entrance to the green which is well protected!
Nestled in the beautiful Estrie countryside, a few minutes from Sherbrooke, North Hatley and Compton in the Eastern Townships, the Milby Golf Club is a semi-private golf club offering an interesting golf challenge, and this, in an enchanting setting of woods, rivers, and beautiful hills.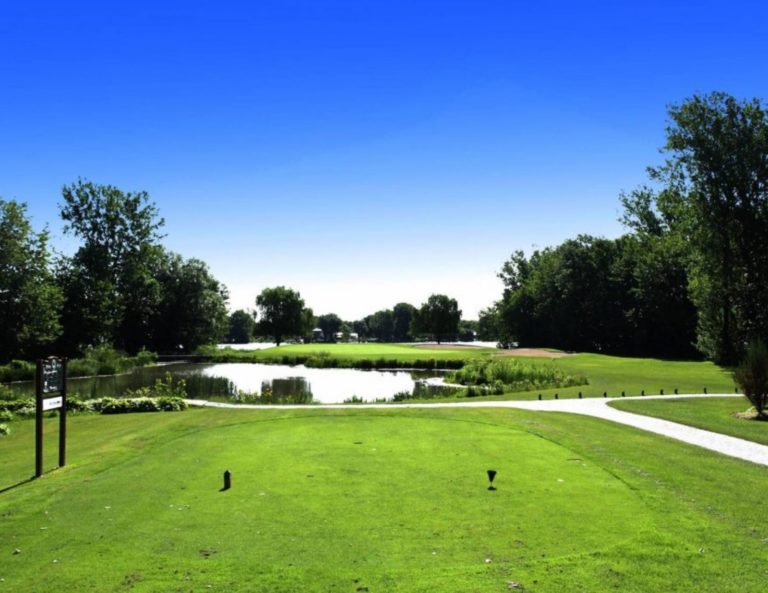 Well known to golfers in the region, the St-Jean Golf Club has been delighting enthusiasts for a century. Impeccable and enchanting, the grounds are perfectly maintained to the delight of members and visitors. Easily accessible, the Golf Club is now open to everyone. Come and discover it or rediscover it this season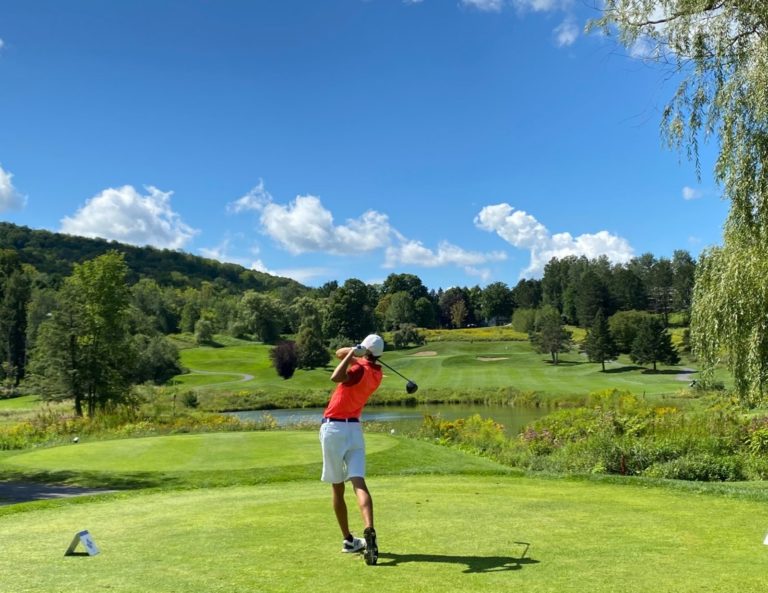 The 15th hole with its lake in front of the tee gives the impression of being a very easy hole but is complicated with the sand traps protecting the green very well. The green is elevated which gives an optical illusion due to the mountain behind.
The 15th hole with its lake in front of the tee and gives the impression of being very easy, but is complicated by the sand traps which protect the green very well and speak of the raised green which give a lot of problem with an optical illusion due to the mountain behind.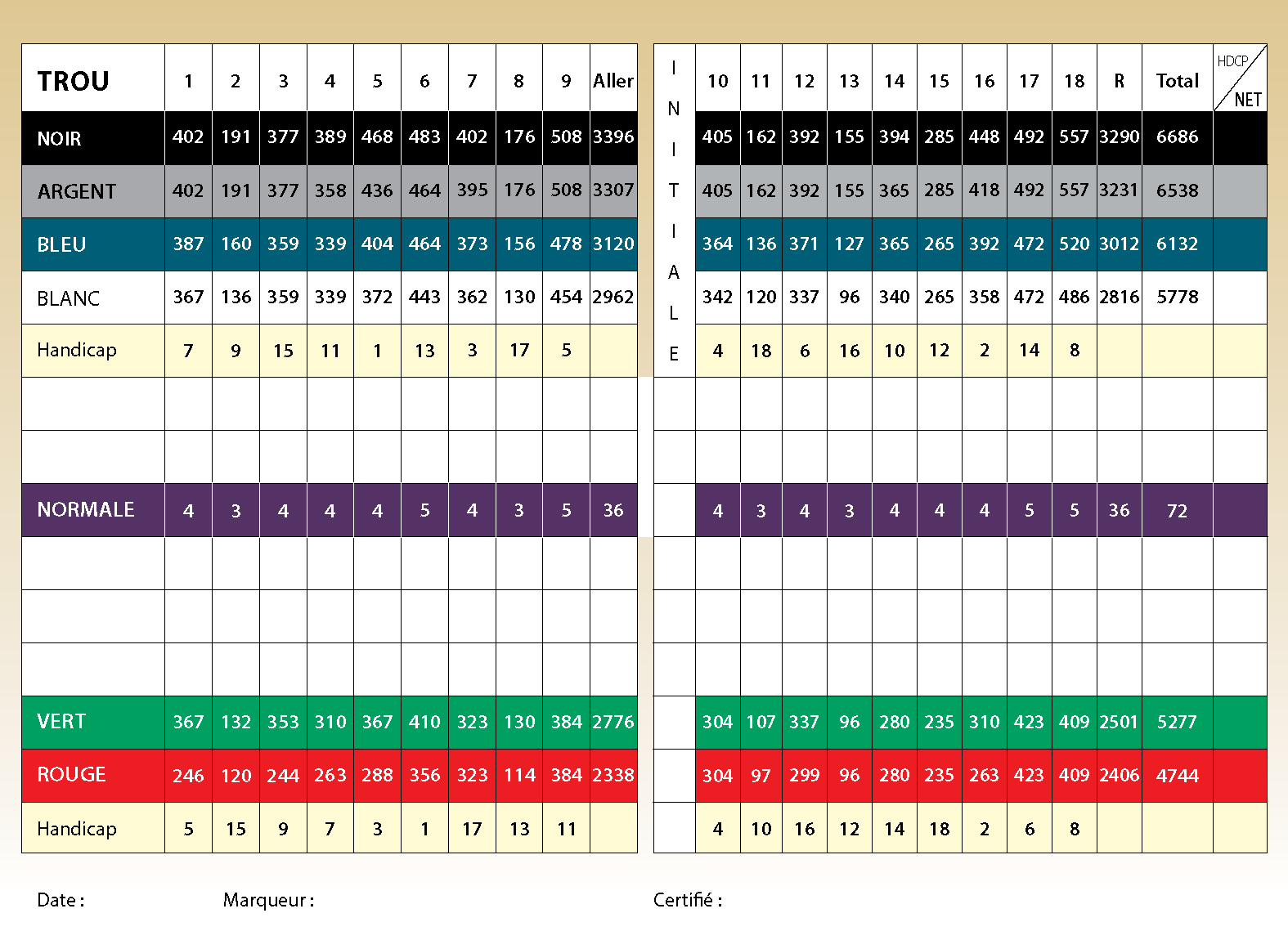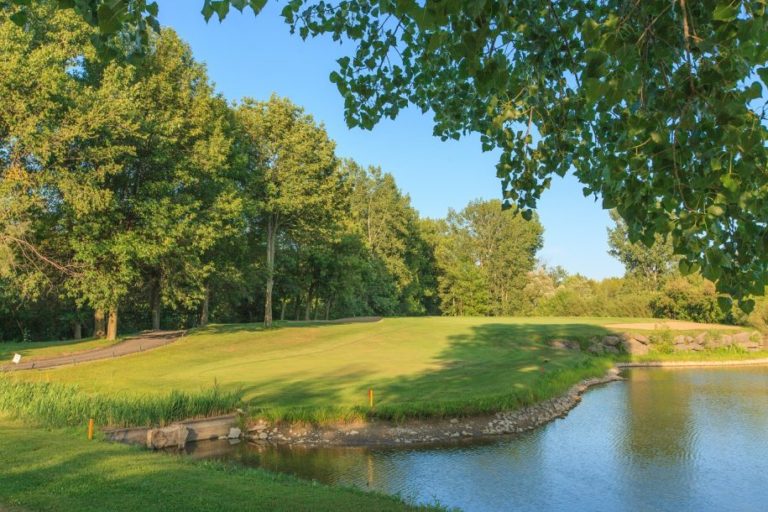 Vallée des Fort Golf Club
It was in 1996 that the kick-off was given for the inauguration of the Vallée des Forts golf club. The name of the club refers to the various forts erected in the region during the fur trade era. Located inside a maple grove, the Vallée des Forts golf club serves an 18-hole course. A par 72, qualified as a "championship course". With four tee boxes, the course offers between 5,104 and 6,840 yards of play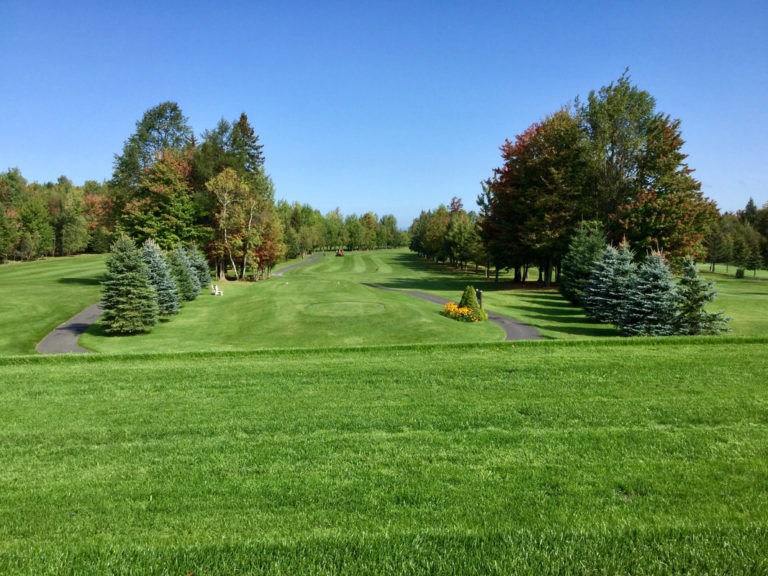 Coaticook Golf Club (walking)
The Coaticook Golf Club offers a superb 18-hole course that will please everyone, maintained by François Pelletier and his team. This par 72 course offers unique challenges with interesting greens, drawn fairways, water hazards and bunkers. Come see us and have the chance to admire the scenery from the 18th hole.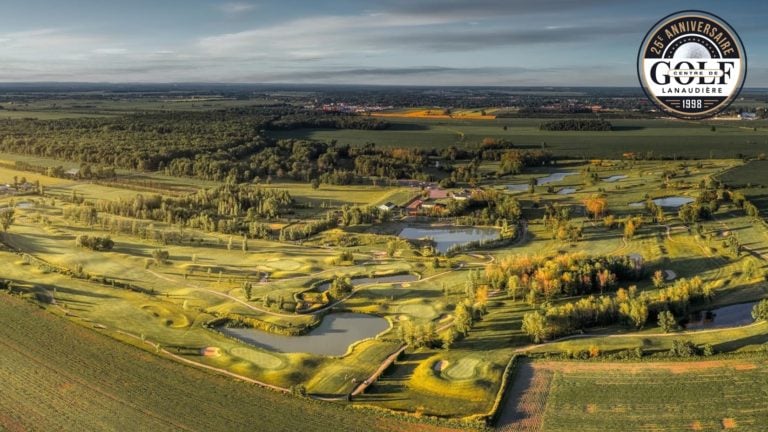 Center of Golf of Lanaudière
On the edge of Montreal and Laval, our course this golf course offers you an excellent golf challenge whether you are a beginner or an advanced player. 27 unique holes, a 300-yard grass driving range and 4 practice greens are available to everyone. In addition, our facilities include one of the largest golf academies in Quebec.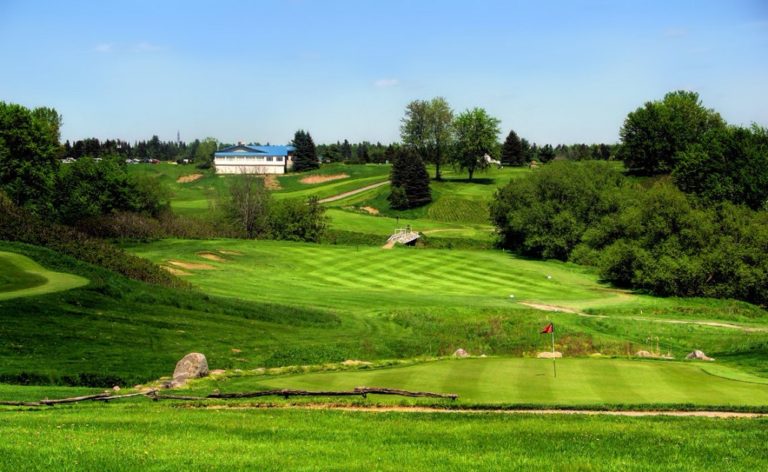 Links O'Loups Golf Course (Louiseville)
This links golf course with tormented relief in a bare landscape. The rough is rarely trimmed, meaning be careful to stay in the fairway.You'll feel like you're in Scotland!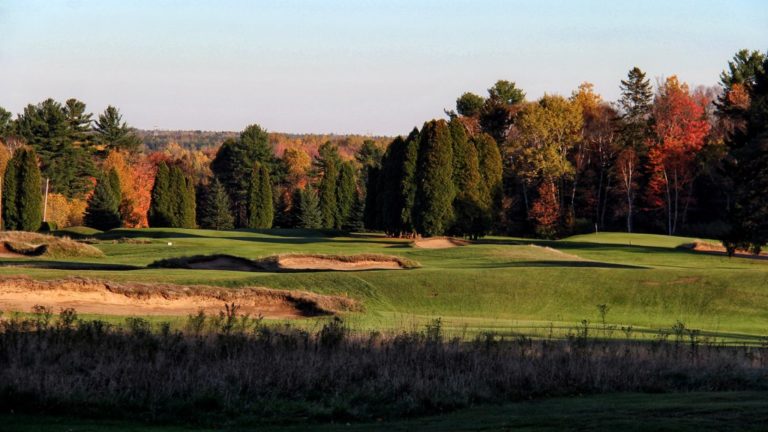 Typically Scottish in style, designed by Frederik de Peyster Townsen and completed by Walter J. Travis, Grand-Mère Golf Club was laid out according to the purest of traditions. With its 18 holes totaling 6,457 yards, the Club de Golf Grand-Mère is renowned for the challenge of its valleys, the exceptional quality of its greens and its century-old trees.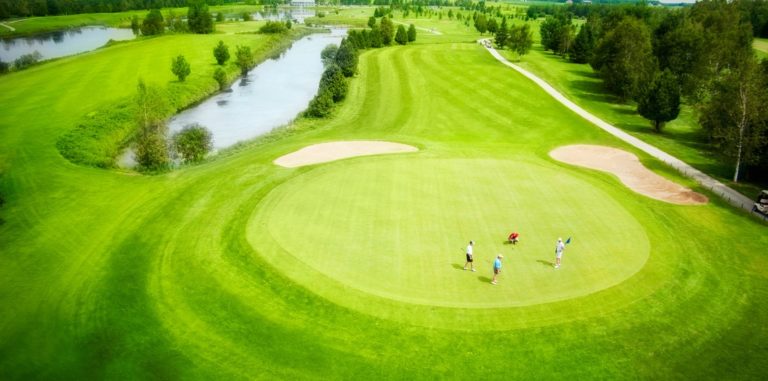 Located about fifteen minutes from downtown Victoriaville, the Club de Golf Laurier is the little brother of the Club de Victoriaville and is owned by the same group of shareholders. Investments of nearly $1M have just been devoted to expanding the tee boxes and the terrace, irrigating the fairways, and purchasing 65 new golf carts. Club de Golf Laurier is superb value for money and will appeal to discerning golfers.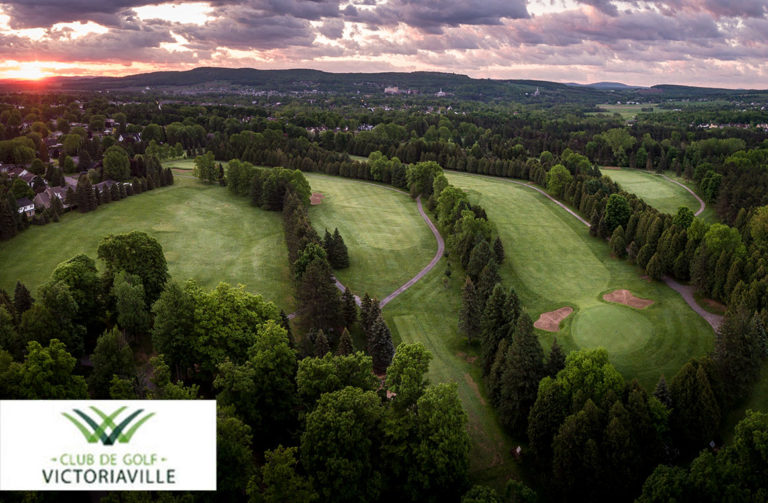 Victoriaville Golf Club, although founded in 1944, it was in 1959 that the architect Howard Johnson offers the plans of the course as we know it today, with one feature, to offer as many par 3s as par 4s and
normal 5.
Its wavy greens and 67 carefully positioned trapdoors represent
his biggest challenge. Its permissive undergrowth, completely bare,
allow golfers to benefit from a permissive environment.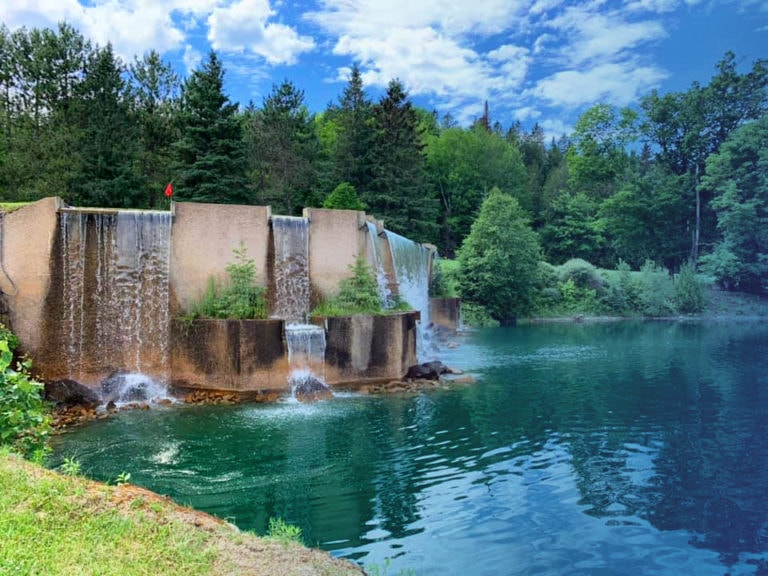 Club de Golf de St-Jean-de-Matha
Hole # 11 "La Chute" is undoubtedly THE signature hole of this course. Short par 3 facing a majestic waterfall. It's impossible to see the green from the tee, if you feel like you've hit a good shot you'll stay in the unknown until time to climb alongside the green
The St-Jean-de-Matha golf club is a unique course, the reputation of which is well established. Designated by Rolland and Réal Salvas 49 years ago, and constantly improved over the years, it is recognized for its breathtaking shots, its multiple signature holes, its numerous bodies of water, its floral arrangements by the hundreds and its immaculate maintenance. It is a must in Quebec, a golf bucket list that provides golfers with a grandiose experience: THE MATHA EXPERIENCE.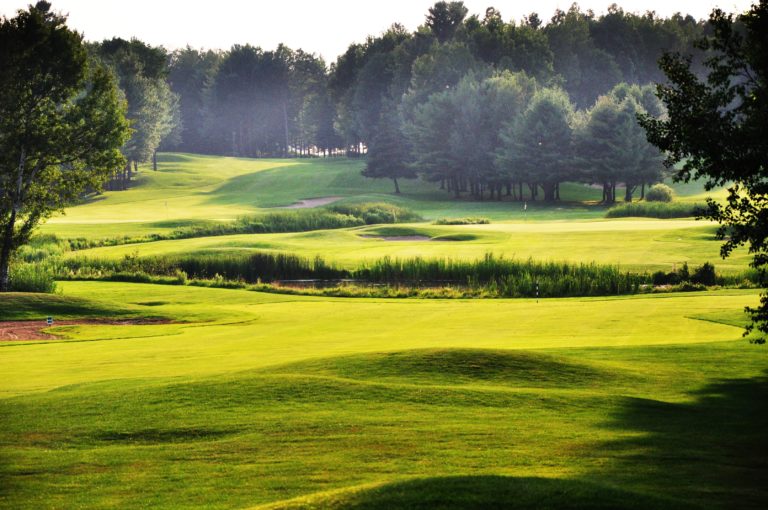 Le sixième trou est un des plus difficiles mais également majestueux avec une vue imprenable sur la vallée. Vous avez de quoi vous satisfaire un coup de départs précis pour vous rapprocher de la zone à pénalité, en évitant fosse de sable, obstacles d'eau à gauche et à droite. Puis votre deuxième coup au vert, un coup de 150 verges avec encore des fosses de sable qui protège un vert surélevé. Finalement un vert immense, ondulé qui vous demandera une touche délicate. Attention de pas vous laisser distraire par la faune autour, tortues, chevreuils, canards sont autour de vous.
Long de 6771 verges et comptant quatre niveaux de difficulté, le St-Laurent devrait plaire à toutes les catégories de golfeurs. Richard Faucher a conçu un parcours visuellement élégant, qui offre de tout: des monticules délimitant les allées étroites, des fosses de sable stratégiquement localisées, vert double, des départs surélevés. Enfin le parcours utilise comme toile de fond une nature sauvage, une forêt mature et un ruisseau des prairies où vous apercevrez peut-être un grand héron qui nous visite régulièrement. Tous les trous de ce parcours ont été dessinés de façon à permettre aux joueurs, s'ils le désirent, de prendre un risque proportionnel à la situation de jeu. Les allées étroites et sinueuses obligent les golfeurs et golfeuses à sacrifier très souvent la distance à la précision. Le vert du 18 et celui du 9 se distinguent car il s'agit d'un vert double de style écossais. L'arrivée à la fin de votre ronde peut donner lieu à des roulés très intéressants. Les deux parcours du Continental peuvent recevoir au delà de 188 golfeurs en départs simultanés. Les trois salles de réception et les terrasses extérieures permettront à vos invités de passer une excellente journée.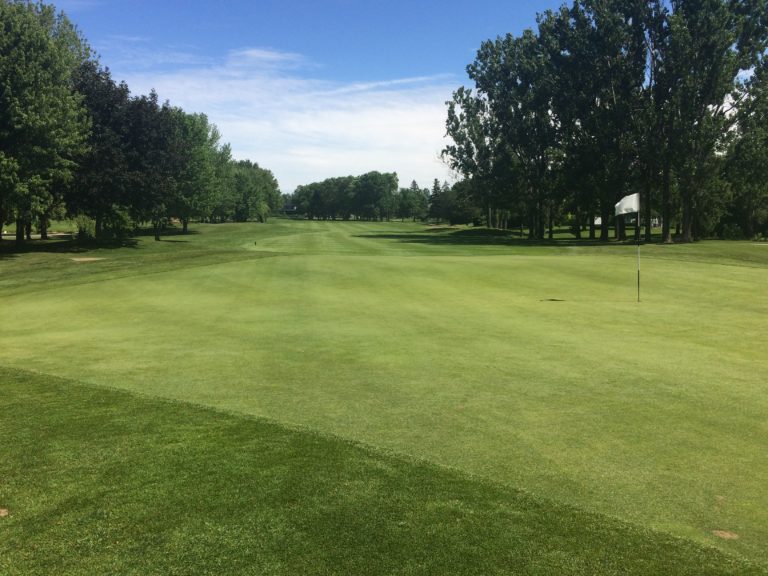 Designed in 1963 by renowned architect Howard Watson, the Le Portage Golf Club course offers a one-of-a-kind and enjoyable golfing experience for all levels of golfers. Our course, whose par is 72, has six different tee markers:
Gold Milestones: 6868 yards;
Blue Milestones: 6457 yards;
Milestones White: 6107 yards;
Black Milestones: 5811 yards;
Red Milestones: 5540 yards;
Yellow Milestones: 5184 yards;
FIRST MOUNT milestones: 4490 yards;
This mid-century course with fairways lined with mature hardwoods offers you an extraordinary setting in every season and an exceptional quality of play. The first and second nines have opposite difficulties.
ApexGolf
course member
ApexGolf prices
Amount saved
per game

Napierville Golf Club

26

$

14

$

Club de Golf Val-Des-Sources (with kart)

35

$

16

$

Grand-Mère Golf Club

27.5

$

17.5

$

Golf Hemmingford- Parcous Le Village (privé)

50

$

25

$

Golf de l'Île de Montréal (Ireland Course)

42

$

19

$

Club de Golf Le Drummond

22

$

14

$

Club de Golf La Seigneurie

40

$

16

$

Royal Bromont

45

$

23

$

Val des Sources Golf Club (with kart)

20

$

14

$

Golf Château Bromont

40

$

21

$

Links O'Loups Golf Course (Louiseville)

25

$

16

$

St-Jerome Golf Club

32

$

16

$

Vallée des Fort Golf Club

28.5

$

18.5

$

Cowansville Golf Club

25

$

21

$

Club de Golf Val-Morin

45

$

15

$

Club de Golf Heriot

21.75

$

13.25

$

Center of Golf of Lanaudière

29.5

$

16.5

$

Golf Le Griffon des Sources

65

$

20

$

Club de golf LongChamp

30

$

15

$

Club de Golf Verchères (Le Verchères)

27.5

$

17.5

$

Club de Golf de St-Jean-de-Matha

50

$

24

$

Club de Golf de Portage

36

$

16

$

Club de Golf Le Verchère (Le Madeleine)

27.5

$

17.5

$

Club de Golf Milby

26

$

20

$

Club de Golf Canton (with kart)

35

$

17

$

Club de Golf St-Jean

31

$

15

$

Club de Golf Canton (walking)

20

$

14

$

Lachute Golf Club- Watson Course (#2)

37.5

$

22.5

$

Club de Golf de Coaticook (with kart)

37

$

17

$

Club De Golf Beloeil

42.50

$

22.50

$

Hemmingford Golf Club- Frontière Course

27.50

$

22.50

$

Club de Golf Continental

30

$

17

$

Victoriaville Golf Club

38.5

$

20.5

$

Laurier Golf Club

30

$

15

$

Glendale- Ancestral Course

30

$

17

$

Coaticook Golf Club (walking)

22

$

14

$

Club de Golf de Joliette

60

$

25

$

Club de Golf de Montcalm- La Seigneurie

35

$

16.50

$

Golf de l'Île de Montreal (Island Course)

40

$

15

$

Farnham Golf Club

28

$

20

$

Lachute Golf Club- Thompson Course (#1)

37.5

$

22.5

$

Club de Golf de Montcalm- Parcours Le Canton

35

$

16.50

$

Glendale- Elite course

42

$

19

$
ApexGolf
course member
ApexGolf prices
Amount saved
per game

Club de Golf Heriot

26

$

15

$

Club de golf LongChamp

30

$

20

$

Golf de l'Île de Montreal (Island Course)

50

$

20

$

Golf de l'Île de Montréal (Ireland Course)

56

$

20

$

Val des Sources Golf Club (with kart)

20

$

14

$

Vallée des Fort Golf Club

31.5

$

17.5

$

Club de Golf Le Verchère (Le Madeleine)

30

$

18

$

Grand-Mère Golf Club

31

$

20

$

Club de Golf Canton (with kart)

35

$

17

$

Club de Golf de Montcalm- Parcours Le Canton

40

$

17.50

$

Club de Golf Verchères (Le Verchères)

30

$

18

$

Club de Golf de Montcalm- La Seigneurie

40

$

17.50

$

Club de Golf de Coaticook (with kart)

42

$

21

$

Golf Le Griffon des Sources

70

$

25

$

Club de Golf Le Drummond

26

$

15

$

Club de Golf Val-Morin

50

$

20

$

Lachute Golf Club- Thompson Course (#1)

37.5

$

22.5

$

Golf Hemmingford- Parcous Le Village (privé)

50

$

25

$

Club De Golf Beloeil

42.50

$

22.50

$

Glendale- Ancestral Course

39

$

18

$

Club de Golf de St-Jean-de-Matha

55

$

24

$

Club de Golf La Seigneurie

46

$

21

$

Cowansville Golf Club

30

$

26

$

Club de Golf Val-Des-Sources (with kart)

35

$

16

$

St-Jerome Golf Club

40

$

18

$

Golf Château Bromont

50

$

21

$

Club de Golf de Portage

42

$

20

$

Hemmingford Golf Club- Frontière Course

30

$

20

$

Club de Golf St-Jean

32

$

20

$

Glendale- Elite course

20

$

19

$

Links O'Loups Golf Course (Louiseville)

27

$

19

$

Club de Golf Continental

30

$

17

$

Victoriaville Golf Club

38.5

$

20.5

$

Lachute Golf Club- Watson Course (#2)

37.5

$

22.5

$

Farnham Golf Club

32.5

$

22.5

$

Coaticook Golf Club (walking)

27

$

18

$

Center of Golf of Lanaudière

33

$

19

$

Club de Golf Canton (walking)

20

$

14

$

Club de Golf de Joliette

60

$

25

$

Laurier Golf Club

30

$

15

$

Napierville Golf Club

30

$

17

$

Club de Golf Milby

35

$

17

$

Royal Bromont

45

$

23

$